This has been the week of tags! I got tagged twice! So in this post, I'm going to smash them together, alter, and answer them both. I was thinking about what these tags had in common and then it dawned on me: both of this tags look at what I fangirl about. I don't often fall into fits of fangirling, but what's more fun than discussing characters/books/t.v. that I love?! Who knows, maybe I'll find someone else out there who fangirls (or fanboys) about the same things (which would be awesome).
Bailey, a new blogger, at
The Curiosity Collections
tagged me with the Liebster blog award and asked some good questions that can easily lead into things that make me a fangirl. Since I've been tagged with this
before
, I only choose a couple of questions.
I've met a couple of lesser known authors, but no one really famous. Because that's a boring answer, let me tell you who I'd fangirl over meeting.
J.K. Rowling. She wrote Harry Potter. Enough said.
Tamora Pierce. She's written a ton of fantasy books and her skill in world building is AMAZING.
If you had to choose, what are your top 4 favorite books? (I know it can be so difficult to choose just one.)
It's harder for me to choose four, so let me show you my absolute favourite book.
I know that a lot of people don't really understand this choice, but I just love the characters and the setting. THE SETTING IS AMAZING! FANGIRL FANGIRL FANGIRL!! It's my happy book and stands up to a reread every time. I gave my copy away to Marian in my 100 Followers Giveaway, so I'm in desperate need to own this again (hint hint).
Favourite Screen Characters Tag
The second person to tag me was Rachel from
Secret Scribblings
. This is a tag that I've never done before and screams fangirl. In this tag you list
ten
eight (this post is getting long already!) of your favourite characters from movies or t.v. shows. Some people are snobs when it comes to a good story and believe that they can only be found in books, but I think that they're missing out on a world of amazing storytelling that can be found on the big and small screen. Watching t.v. (in moderation) makes you a better storyteller! Anyways, onto the tag!
Since I'm indecisive and too weak to make a choice, this list is in no particular order.
Sam Swarek - Rookie Blue
Sam Swarek is a cop with the perfect amount of rule-breaking instincts. Him and Andy (the girl in the GIF) have an on again off again relationship (of course), but they're so cute together! He's also the typical angsty love interest with a bad childhood and emotional problems, but I LOVE HIM! Every time he tries to protect one of his friends, my heart melts. Plus, he's cute.
Peggy Olson - Mad Men
Peggy is great in Mad Men. She starts as a lowly secretary and moves up the ranks in the advertising agency. As this show is set in the sixties (explains the cigarette), she has to deal with a lot of sexism, but despite that, she still ends up a professional women with an unmistakable confidence. She also ends up with a resolved love life, so it's refreshing to see that she didn't have to pick between work and love. Her rags to riches story-line makes her character so endearing.
John Reese - Person of Interest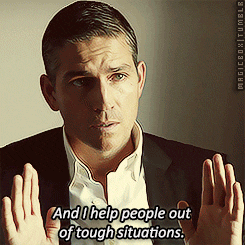 For this one I'm going to quote Rachel, because she said it best:
Meet the coolest customer on tv. You know how I said Patrick (from the Mentalist) is suave? Reese is suave-r. He's the most talented assassin ever and I love it. Some might call is cheesy or boring or too unbelievable, but I love the way he can walk into a crowded room full of goons, take out every single one, and hardly break a sweat. I love his ever-present suit, his soft, quiet voice, how he can speak like ten languages, and how he's proficient in every weapon. I love how he takes care of and is taken care of by Harold, the other main character. So cute.
Luke Danes - Gilmore Girls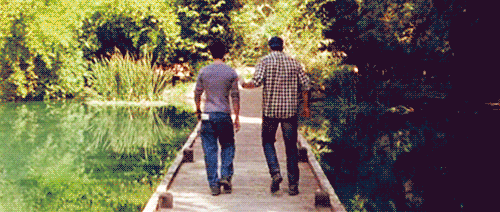 He's the one in the plaid.
I had to share this scene, because it's so true of Luke's character. He's grouchy, but lovable. He plays the part of the town cynic who owns a diner, but deep down he's so sweet (and lots of times the other characters DON'T EVEN NOTICE!). Plus, he's a love interest to one of the main characters, so that makes him all the more enjoyable to see on the show.
Jo and Beth March - Little Women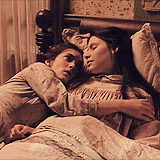 The sisterly love in this movie makes me want to cry every time. I couldn't choose between these two sisters. Jo is spunky and outspoken and adventurous, but Beth is so sweet and kind. I love them both and the scene in the GIF always makes me ball my eyes out. FHOISHGSGKLR this movie. Is it okay to fangirl over stuff that makes you sad (but in a good way)?
Felicity Smoak - Arrow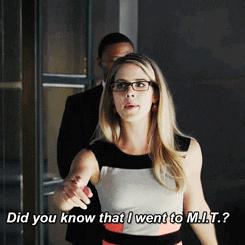 I love Felicity for the same reason I love Peggy: girl power! She's the I.T. support for Oliver's vigilante 'business'. I'm a totally Olicity shipper, by the way. She's got the perfect mix of awkwardness and bluntness. I'm always cheering when she tells Oliver off. Also, she wears the best outfits.
Weevil - Veronica Mars
Weevil is the leader of a motorcycle gang in Veronica Mars, and I have no idea why I like him so much. He's got that whole bad-boy-with-sometimes-a-good-heart thing that I tend to like in male characters. I also really enjoyed the strange friendship he forms with Veronica. You never quite know what to expect with him, but every time an episode focused on him I was happy (btw, there wasn't enough episodes focused on him!).
Duke Crocker - Haven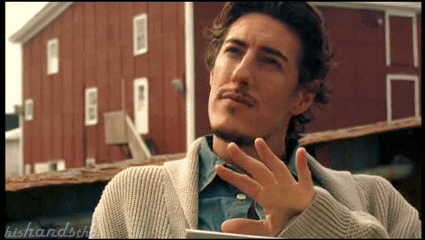 Oh look, another bad boy with a good heart character. Duke has his precious boat that sometimes transports less than legal things, but he would never do anything REALLY bad...I think. He helps out Audrey and Nathan as they try to solve the troubles (although sometimes reluctantly) and honestly, I sometimes prefer him over Nathan. The writers of this show put Duke through a lot of really terrible stuff, so my attraction to him is a mix of pity and admiration for his spunk. Oh and he's not hard on the eyes either.
So there you have it! Now you know a few things that get my inner fangirl going! Thanks again to Bailey and Rachel for tagging me. I hope you don't mind me altering your tags. Let me know in the comments who your favourite screen characters or which authors you'd like to meet. Also, if you watch any of these shows, feel free to fangirl in the comments with me!