Before we get to the meat of this post, I want to give you the official notice (I've been tweeting about it for a bit now!)
I'm going to host a giveaway when A Splash of Ink reaches 100 Google Friend Connect followers!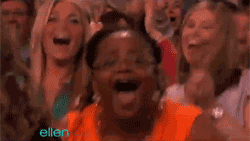 Ahem, yes well, first I have to figure out how to run one of those things...ah well, DETAILS! But seriously, if you guys know of any good posts talking about how to run giveaways that would be much appreciated.
Now, onto you're regularly scheduled *looks over at the archive for the past two months and laughs* posting:
Today I wanted to talk about something that is near and dear to my heart: blog design. I'm in no way a super professional blog designer, but I have learned quite a bit since I started blogging and I wanted to pass it on, especially to you newbies out there. I wanted to create a list of my (emphasis on "my" people!) biggest blog design pet peeves and how to avoid them. I write this post, because I wish someone would have written it (and then spammed my email with it) when I first started blogging.
This is a list in no particular order:
1. Music that plays as soon as I go onto the webpage
I like seeing what music people are interested in, but I don't want to be assaulted with it as soon as I click on your blog. If something starts blaring from my speakers unexpectedly, my first instinct is to close everything, no matter how awesome your blog is (and it is awesome).
Instead try: Having an optional music player on your blog. I have one in my sidebar with the song of week(ish). It's just an embedded video from Youtube. Speaking of which, does anyone actually listen to those songs?
2. Hidden "follow" buttons
This might just be laziness on my part, but I hate it when I can't find a follow me button on someone's blog. I really want to follow blogs, but when there's no button, it creates an extra step for me. I have to go into bloglovin' and manually search and add a blog. When I was still using GFC as my main reader, I remember it being tough to manually add a blog to my feed.
Instead try: Putting a button on your blog somewhere, both GFC and Bloglovin' is great for readers of all types. If you don't want a super obvious, in-your-face button, try putting it at the bottom of the main blog page or on a new page altogether.
3. When I can't read your text
There's two general reasons for this a) colour and b) font choice. Both of them equally annoying. I JUST WANT TO READ YOUR CONTENT THAT I'M SURE IS GREAT, BUT I CAN'T READ IT *sob*
Instead try:
simplicity. Stick too dark colours for the text like black or navy, and make sure the background isn't distracting or too dark. Use a font that is similar to the default, save the fun curly fonts for headers. Oh! And make sure it's big enough to read.
4. Who are you and where can I find you (in a not-creepy kind of way)?
If you want to interact with other bloggers (which is the fun of blogging for me!), then it's important that people get a sense of who you are. There's been way too many times where I'm like "This person is awesome, and funny, and bookish, and awesome!", so I look around for a profile or a twitter handle, but there's nothing! Then I'm sad when I can't find one, because I want to get to know you and sometimes tweet at you.


Instead try: making a page of your blog dedicated to you! I'm a private person, so I get it if you don't want to share you're life story. Try some general descriptors like "I'm a student" or "I play the trombone" or "I'm really a superhero in disguise" (ok, maybe not the last one, but you get the idea!). You don't have to share things like you age, gender, or where you live for people to get a sense of who you are.
A hundred different colours and a thousand different fonts. It looks very busy and you can tell that they wanted to include all of their ideas.
Instead try:
a colour scheme and one or two well place patterns. Props for being inclusive, but in blog design less is (usually) more. Pick a theme and go with it. On SOI, I currently have a peacock/watercolour theme, that I try to carry through with all my design elements. I talked more about this
here.
Some people have ditched sidebars all together (I'm looking at you Notebooksisters-soon-to-be-Paper-Fury) and that's cool, but I still love to have a sidebar. What I do not love is annoying sidebars (and yes, I'm definitely guilty of this one on and off). Usually obnoxious sidebars have a) way too many widgets b) flashy widgets (that give me a seizure to look at) c) sidebars that take too much room or d) widgets that don't fit properly.
Instead try:
picking one or two of the more gimmicky widgets (e.g. dog calenders, fish feeders, daily horoscope etc.) so it doesn't take over your blog. If something in your sidebar is really important, but seems to be taking over (such as blog buttons), make a whole new page dedicated to it. Try making your sidebar around 1/3rd the size of your body (and always avoid the double sidebar).
An example of what NOT to do.
7. Pictures that are...off
As with the sidebar, it's the worst when a picture doesn't fit inside the blog body, so it either overflows or gets cut off. Another no-no is pictures that have been stretched or compressed weird.\
Instead try:
previewing your blog post before publishing, so you can make any size adjustments to your pictures. When you're making size adjustments, use the built in small/medium/large buttons, but if you're going to mess around with HTML, use an online conversion calculator. I've screw up so many pictures by not keeping the width and length the same ratio.
8. Making my mouse do funny things
Me and my mouse arrow have a very good relationship. I choose the size of it in my own computer settings, and we're very close. I'm glad that you like stars or fireworks when you click on something, but I prefer to keep my usual mouse (it might get lonely without me).
9. Making it hard for me to read more
I love your posts, and I want to read more! Where's the archive? Where's the label cloud? Where's the "You Might Also Like"? Am I going to be forced to just keep click "View older posts"?
Instead try:
adding the aforementioned things.
There you have it! My top ten blog design pet peeves. I wanted to end this post by saying that I'm not thinking of anybody's blog in particular and that I love all of your blogs, so much. It's just a shame when some design elements get in the way of someone really enjoying a blog's content. What's your biggest design pet peeve? Do you agree/disagree with any of mine? Let me know what you think in the comments!
Reading: Cinder by Marissa Meyer
Listening: Johnny Cash
Watching: Scorpion