I want to
crawl under a rock and not hear anybody else's opinions on books
(especially books that I
want
to read) for a very long time.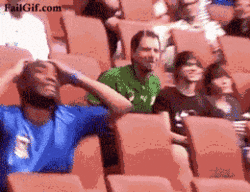 Sunny, don't you think that's a little drastic?
Nope, not one bit. Being a book hermit is perfectly normal and socially acceptable right?
Ahem. Not really, especially since you are a book blogger. What brought this crazy-speak on anyways?
I'm so glad you asked, inner brain voice, so glad you asked...
I've realized that high expectations are ruining books for me. I consume a lot of opinions about books, especially popular books. I read book reviews, I get recommendations from friends, I check the top books at the library, I check Goodreads ratings, and I work in a public library ('nuff said). All of these opinions are fogging my reading experience.
So right now I'm reading Fangirl by Rainbow Rowell. This book has been praised so much in the book blog world and received very good ratings on Goodreads (4.22 out of 5). A few people have also personally recommended it to me. From everything I've heard, I'm expecting this book to be amazing, something special.
That's it right there, the expectations like that; it's ruining books for me.
Whether or not I want it to happen, I start to expect something more from this book than the average book I choose (mostly at random) from the library. I'm forming these expectations from other people's opinions. And what makes me so annoyed is that way too often the book doesn't meet those high expectations.
Even if a book is good or even just okay, it's ruined for me because it wasn't as good or as moving as it was supposed to be. Instead of enjoying what was good about the book, all I feel is disappointment.
And I don't think that I'm the only person who this happens to. Take, for example, any popular book (Divergent, Hunger Games, Twilight etc. etc.), you always have people who love it and people who hate it. There is rarely a large group who feels like the book was "just okay". Because the expectations for these types of books are so high, when people read them and are disappointed, they tend to have a more drastic negative reaction.
So you think nobody should ever talk about books they've read?!
No, not at all! Hearing other people's book opinions helps me choose what to read next and what to stay far away from. People sharing their book opinions is how fandoms start and how bestsellers happen. So yes, share your opinions! I certainly share mine.
Buuuuuut....sometimes, I just get tired of hearing other people's book opinions before I've read the book. Sometimes, I get tired of having book preconceptions and disappointment.
And sometimes, I get tired of ranting.
Reading: Fangirl by Rainbow Rowell
Watching: Rookie Blue
Listening: Relient K