In some of my
previous posts
I've talked about my love of the library and how close that institution is to my heart. As a young person who wants to build a career in a library, I get challenged quite a bit when I tell someone about my plans for the future.
Aren't libraries...you know...
on the way out?
Is that really a wise career move? Isn't it a bit
obsolete?
And by far the worst question:
Libraries?
People still go to those places?
My inside reactions: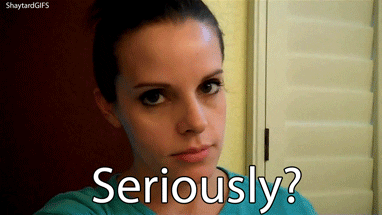 But of course I can't quite behave that way in a civilized conversation. So instead I control my gut reactions and calmly defend my belief in libraries. Here is what I tell the naysayers.
Libraries at their very core are about two things: information and entertainment. Those are two things that will never be obsolete. Since the beginning of time the human species have had a hunger to learn and to please themselves. Information and entertainment are two fundamental needs of a community that will never become obsolete. Thus libraries, as a whole, will never become obsolete. Libraries will never be the dial-up internet of community services.
We (the general public and librarians too) make the mistake of thinking that libraries are just about books. For a very long time books were one of the only sources of information. So it made perfect sense that a library, who carried such a high value for information, would be choke full of books. Over time, libraries and books have become synonymous, but that shouldn't be the case. Yes, books are great and I love them; they're the bread and butter of libraries, and they give information and entertainment, but libraries need to be about so much more than just books.
I think Jane Pyper says it best:
Libraries are in a transition period right now. With all the new technological ways of learning and entertainment, libraries have to adapt. They can't just rely on books to provide their information and entertainment like they have in the past. Within the next ten years libraries are going to sink or swim, depending on how well they adapt. There will be some that can't keep afloat and that makes me sad, but unfortunately it's the truth. However, I'm pleased to say that I see lots of examples of libraries who are happily changing how they support their core ideals so they can become a relevant service to their community. That gives me hope in libraries and the confidence to invest my career in a library.
Changes I've seen in how libraries deliver information and entertainment:
-Many libraries offer online databases (such as encyclopedias or language courses) that you can access from home by using your library card
-Those online databases can also include free music/video streaming or downloads from services such as Freegal or Hoopla
-Reference librarians have become experts on how to search the internet and find quality material -Human Library days exist. A day where people can "borrow" volunteers who talk about life experiences -Libraries offer "Tech Tutors". People who will teach you how to use your technology (computer, tablet, etc.)
-Many libraries offer e-book check outs
-Libraries have expansion Audio Visual collections. Yes, you can take out current T.V. series, C.D.s, audio-books and movies
-Many libraries are buying expensive devices to foster creativity, such as 3D printers and laser cutters that customers can use free of charge
-Libraries offer free wifi and computers for customers
How about you? Does your library offer any new and unique services? How do you feel about the future of libraries? Any hope? Let me know what you think down in the comments!
Reading: How To Be A Heroine (Or, what I've learned from reading too much) by Samantha Ellis
Watching: Rookie Blue
Listening: The Civil Wars