If you've read my about me section, you'll know that I graduated high school last year. When I was going through all my old school papers last week, I found this little assignment. In grade twelve English we read The Great Gatsby by F. Scott Fitzgerald and had to make a Facebook profile picture for one of characters. My reaction to that: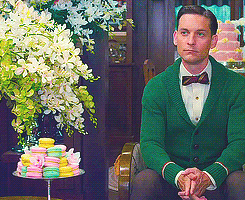 Did I question the academic value of this assignment? Yes. Did I complain about it wasting my time to anyone who would listen? Yes. Did I enjoy writing it? In the end...yes.
The pictures are a little outdated as I did this assignment just before the newer movie version came out. However, I thought you might get a laugh out of it anyhow. I certainly did when I uncovered it.
And if that didn't make you chuckle, I'll leave you with this gif:
Reading: Rules of Civility by Amor Towles
Listening: Beethoven
Watching: Chicago Fire