This week's post was supposed to be on the topic of Twitter. However I had some technical problems, AKA my finished post disappeared when I hit publish! Every blogger's nightmare, that every writer can relate to.
So, you get this instead. My thoughts on rewrites since a rewrite is in my near future. Rewrites come in all shapes and forms, whether it's an essay, a story or a blog post the process is still the same.
The rewrite comes in six stages.
I just spend three hours writing that! I lost all that work? I'M GONNA LOSE IT!
And other choice words.
It can't be gone. Maybe I saved a draft somewhere. Maybe it auto-saved! Maybe Google has the answer...
It's gone, and I'm going to have to rewrite this. *BREATH* I can do this. Maybe I have some rough notes. Say goodbye to that Netflix that was calling my name.
Now, what did I even write about? Why didn't I make rough notes? Get a pen and paper.
Think think think...ah that was the gist of it...I think.
How did this start again? Ah yes, it's starting to come back now... I'm pretty sure that's how it went...Well that's a new bit. Hmm...I'll go with it.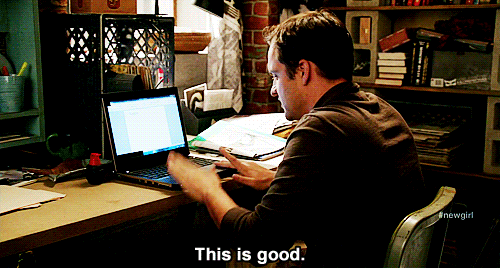 Hey, this is actually sounding good! That's exactly what I meant to say before! I remembered all the good ideas and got rid of all the extra filler from before! It's finally finished. This is going to be an AWESOME post!
Although I hate loosing material, just like any writer, I always find that the rewritten piece is stronger. The piece always turns out tighter, because I can only remember the essential points that I wanted to write about. All of the fluff that's been added (usually the intro of a blog post) doesn't end up back in the post. It's like the whole piece gets refined.
What about you? Do you have any lost work stories? Have you had to rewrite? Thoughts? Comment away!
Reading: Burn Bright by Bethany Frenette
Listening: Tessa Violet
Watching: Veronica Mars